Last week I helped pattern test
Peek-a-Boo Patterns
new coat the Downton Duffle (it's a fabulous coat btw, but more on that tomorrow)
The pattern called for two toggles. So I went to the only fabric store near my house, Hancock fabrics, and I asked the clerk where I could find the toggles. She stared at me blankly, "What is a toggle?" Oh dear.
This, my friends is a toggle
and Michael Kors says toggles are IN
Sadly, Hancock doesn't know this and did not have any in stock. BUT they did have toggle buttons. So I picked up a package sure I could figure something out. Let me tell you, I am so glad that they were out, because 1. pre-made toggles are so expensive and 2. making your own is so easy!
Here's how you can make your own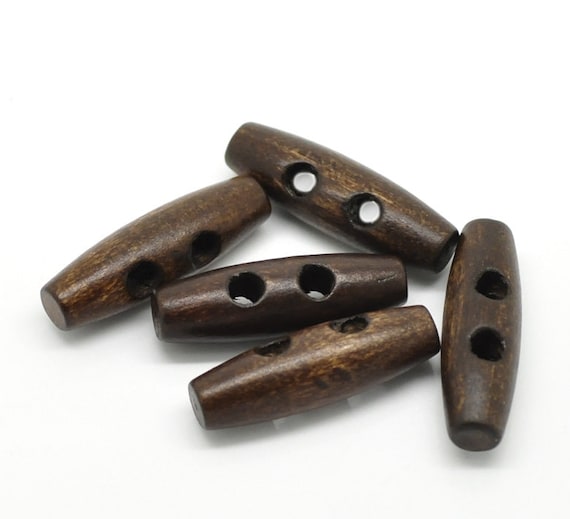 First you will need some toggle buttons. They are just little rods with two holes in them. These pretty ones above are from
Anny May Craft Supplies
etsy shop.
I picked up mine from Hancock and they were on the button wall. They were $3.46 but all the buttons were 50% that day (yes! I love when what I want to buy is on sale)
You will also need some sort of cording. I already had some of this deerskin lace (from Hobby Lobby in the leather section right next to the jewelry section-- you can buy it in smaller quantities for much cheaper and they always have 40% off coupons) but any type of cording (look in the ribbon and trim section) will work as long as it's thick and sturdy
Lastly, you will need a little bit of leather (or vinyl, faux leather, probably even felt would work as long as it's a bit sturdy and the edges won't fray) I chose leather because that's what I had on hand
Time to get to work
ONE: Cut your leather into your desired shape The job is to cover the ends of your cording, so you can be creative with this. I did a little research and found mostly triangles, rounded triangles, and half ovals used with toggles. Mine were 3/4" tall and 1" wide. (If you are making the Downton Duffle, Amy has added a pattern piece for this)
TWO: Cut two pieces of cording 4 1/2 inch long
THREE: loop one end of cording through one hole of the toggle, and back through the other hole
Now you are ready to attach the cording to the back side (ugly side that will not be seen). I chose to sew this on, but I would bet a little
fabric glue
would also work well for this step (just put the glue in the center, not on the edge where you will eventually sew your toggle down to your project)
Simply sew across the cording along the edge of the leather. I just used a regular needle on this, if your sewing machine is having a hard time try switching to a leather or denim needle)
Repeat with the other cord, this time with out the toggle button
Flip it over, and your toggle is ready to be sewn to your project! Simply sew around the edges of the leather, try to sew exactly over your first row of stitches so they are not noticeable (or let me know how the glue goes. Or, I am thinking even a little piece of scotch tape would work to temporarily hold down those loops. hmmm I am going to have to go experiment!)
Happy toggle-making!
Come back tomorrow to see the cutest coat ever